26. March 2023
Koki Watanabe sets the final point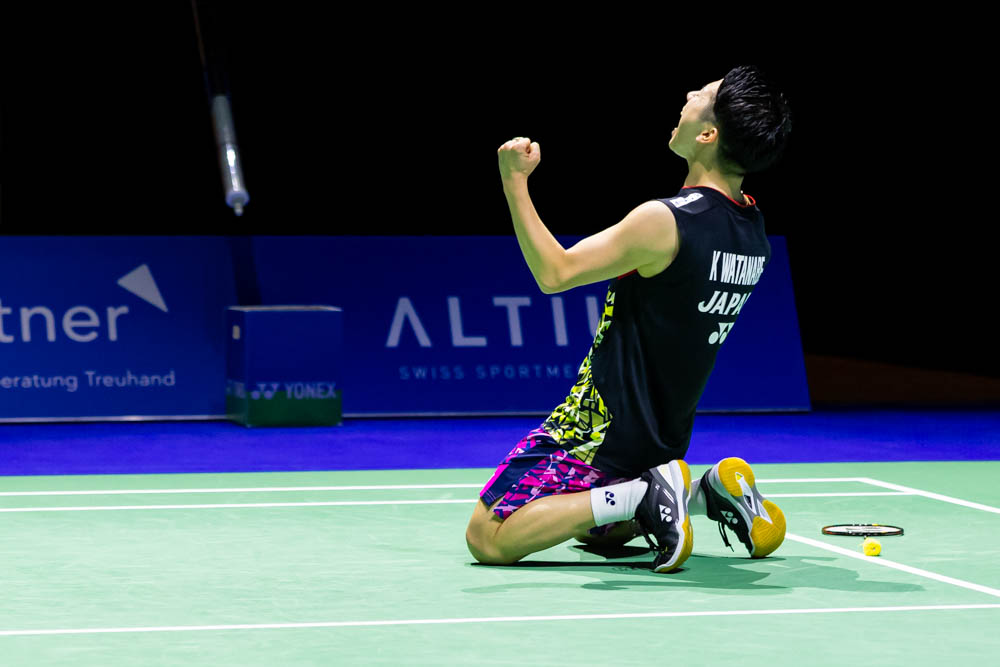 Koki Watanabe sets the final point
It was the last match on this final day of the 33rd Yonex Swiss Open in the St. Jakobshalle and at the same time a premiere: Never before had CHOU Tien Chen from Taiwan and Koki WATANABE from Japan faced each other, which was also due to the fact that the two had relatively few points of contact until now: Chou, at 33, is a whole generation older and ranked 6th in the world rankings, while his opponent is "only" 24 years old and "only" ranked 37th. The big question was therefore: What would decide the outcome of the final? Watanabe's age alone certainly gave him an advantage in terms of speed, while Chou was able to draw on his thick rucksack of experience.
In the first set, it was youth that tipped the scales. It was simply amazing how fast the 1.66 metre tall Watanabe was on his feet, and his smashes were also impressive, surprising his opponent time and time again with their practically unprompted hits. The Japanese won the first set 22:20 in extra time.
In the second set, the match was even until the final phase, when Chou had a shuttle checked by the Hawk-Eye at 18:19 - and was promptly proved right. The computer-assisted control system has been in place in badminton since 2014 and can steer a match in a different direction. In fact, the favourite now suddenly led 19:18 and finally brought the set home with 21:18.
The approximately 3000 spectators saw top-class badminton in these two sets with great rallies and were amazed above all by the perfectly placed net drops. In the final set, the level flattened out a little - which was mainly due to Chou, who now made one or two unforced errors. This was the case at the very end with a service error for a surprisingly clear 12:21 from his point of view.
Afterwards, Koki Watanabe spoke of "a fairytale that had come true", he went on his lap of honour to much acclaim and pocketed the nice sum of 15,750 US dollars as a well-deserved reward. "And not to forget a nice Victorinox watch," said OC President Christian Wackernagel, who was pleased with the crowd turnout. "After all, a total of 12,000 badminton fans came to see us." He and his fellow organisers can draw on that all year round - until it's "Let the shuttles fly!" again from 19 to 24 March 2024.